Machine Vision – Five Things to Consider When
Buying a Machine Vision Solution
Machine vision has permeated our daily lives, and its industrial applications have made remarkable strides in recent years. In our white paper, we break down the details of some of the main paths you can take in selecting a suitable approach to your machine vision needs.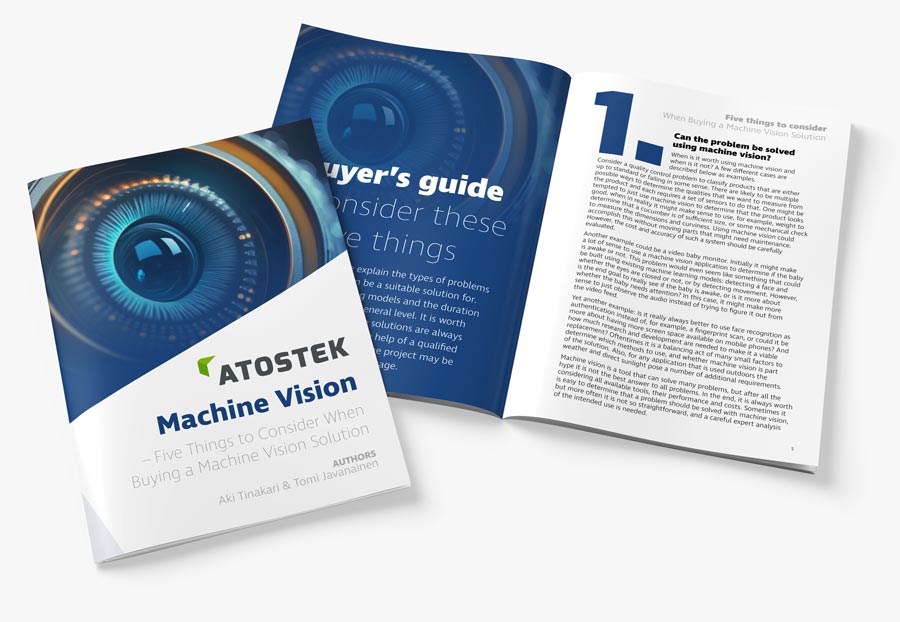 Advancements in Industrial Machine Vision
Machine vision is the key to deciphering visual data and extracting invaluable insights. Everyday scenarios, like object recognition, face recognition, and scene analysis, all rely on this powerful technology. In recent years, industrial applications of machine vision have witnessed remarkable progress.
Deep learning algorithms have propelled machine vision to new heights, delivering unmatched accuracy and reliability in outcomes. Coupled with advancements in hardware, such as robust and high-resolution cameras and sensors, machine vision now thrives even in the harshest industrial settings. This has expanded the possibilities for using machine vision in more challenging environments, such as industry, and has made specialized equipment more affordable.
Download our Buyer's Guide
When it comes to machine vision, often the price of the hardware is easier to estimate than the cost of the software and engineering of the rest of the system. In our comprehensive white paper, we delve into:
Problem-solving potential: Uncover the numerous challenges machine vision can address.
Cost considerations: Gain insights into potential project expenses.
Project timelines: Understand the typical duration of machine vision projects.
Don't miss out on this opportunity to gain insights that could transform your projects. Download our white paper and discover the exact problems that machine vision is uniquely positioned to solve!
Want to hear more about machine vision solutions? Book a meeting and let's explore the possibilities together!