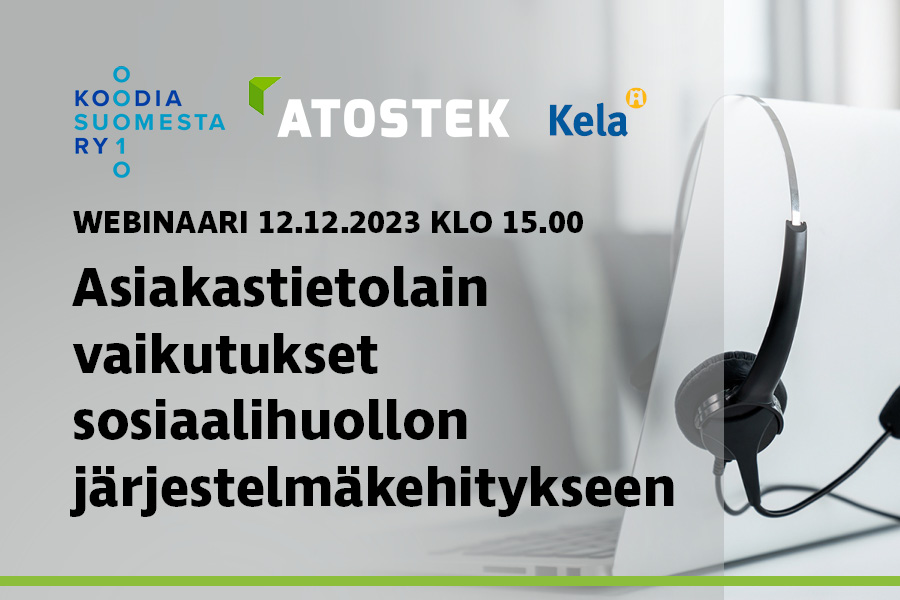 Social care system developer, take note of the new Customer Data Law
Are you a social care system developer? Don't fall behind – the new Social Care Customer Data Act brings changes you need to know about. Participate in our webinar (in Finnish) on November 12th and stay up-to-date!
The new Customer Data Act requires social care providers to join the Kanta services, which directly affects the development of information systems. The first deadline for the obligation to join is inevitably approaching. Welfare regions and private actors providing social care services in the regions must join Kanta by September 2024 at the latest.
What should a system developer consider in light of the new Customer Data Act? Code from Finland, Kela, and Atostek are teaming up to organize a webinar on this subject. The webinar will delve into the impacts of the Social Care Customer Data Act and takes place on Tuesday, November 12th at 3 P.M. Conducted in Finnish, the webinar is open to all interested parties.
Jaana Nissilä, business expert for Kela's Kanta services, will discuss in her presentation what changes the Customer Data Act brings for both social care service providers and system suppliers. Sampo Ojala, Atostek's ERA Account Manager, highlights the perspectives of citizens, social care service providers, and system developers. Sampo also contemplates the significant role of social care now and in the future.
Read more and register (in Finnish): Code from Finland